Kiwi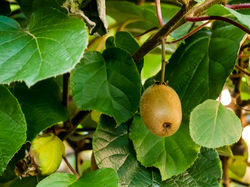 When you buy kiwi plants you get popular exotic fruits that are a source of vitamins, especially in the winter.
More useful information about Kiwi
However, anyone who wants to buy their own kiwi plants is often confronted with a host of questions. Are kiwis hardy? Which kiwi variety is the right one for my garden? And certainly the most important question is this: how are my kiwi plants pollinated? Here in the Lubera garden shop you will not only find the answers to these questions, but above all beautiful kiwi varieties that are suitable for every garden.
Buy kiwi plants - a wide range in the Lubera® garden shop
When you buy kiwi plants here at Lubera you will find three types of kiwi and different varieties:
The Chinese kiwi (Actinidia sinensis or A. deliciosa) is a classic or large-fruited kiwi plant that occasionally has the nickname "Chinese gooseberry".
Mini or grape kiwis (Actinidia arguta), which bear fruit particularly early, are also interesting.
And finally, there are the summer kiwis (Actinidia kolomicta), which have beautifully variegated leaves; they are hardy and ripen particularly early.
If you want to buy kiwi plants and need advice, the Lubera team will be happy to help you.
The kiwi – a climbing plant with great potential
If you are looking for a climbing plant that provides shade in the summer but lets the light in in the winter, then look no further than to buy a kiwi plant. This deciduous plant produces a lot of fruit regularly when planted in the right place and maintained correctly. Kiwis are rich in vitamins and delicious, especially if you were able to harvest them yourself.
Crucial – the pollination of the kiwi
To avoid disappointment, you must always plant a female and a male kiwi. You can also find the self-pollinating variety Solissimo® Renact here in the Lubera® garden shop, however this self-pollinating kiwi plant does not bear fruit very reliably, and the fruits remain rather small. If you want to enjoy your own kiwi fruits regularly, you should buy one of our kiwi dream pairs. This is also how pollination works.
The kiwi species
Everyone knows the hairy, egg-shaped kiwis with their green-brown skin and green flesh. When Actinidia deliciosa is fully ripe, the flesh is particularly soft and sweet. In our region, the ripening occurs relatively late in October or November. In Central Europe, the kiwi is hardy to a certain extent, so it only grows reliably in a mild winter microclimate. In contrast, the smaller grape kiwi has many frost hardy varieties such as 'Pink Bingo' or 'Kens Red' with its red flesh. The 'September Scarlet' variety is particularly suitable for high altitudes and as an early kiwi. The summer kiwi variety Vitakola is also hardy and can even withstand temperatures as low as -30°C.
Buy kiwi plants from Lubera®
After you buy kiwi plants, the best time to plant them is from spring to autumn. A sheltered place should be found where a house wall protects the plants from cold air. The trellis that kiwis need can also be attached to the house wall. In addition, a winter protection in the form of a fleece should be applied in the first year of planting. This must remain on the plant longer if there is a risk of late frost. Grape and summer kiwis can be planted out without frost protection.
The planting distance is 2 to 3 metres for female plants. The male plants required for pollination are planted between the female plants. The planting hole should be twice the size of the pot ball, which is loosened before planting. This improves growth.
In the summer, the kiwi plants need a lot of water, especially in the first year. Their large leaves evaporate a lot of water, so that there is always a need for replenishment. This is especially true when a protective wall or canopy not only keeps out the cold but also the rain.
In the first two to three years, the kiwi's shoots grow upwards and side shoots are attached horizontally. After that, the kiwis should be allowed to grow freely until fruit-bearing shoots have established themselves. After harvesting, however, they must be shortened by 20 to 30 percent every two to three years in order to allow new fruit to form.
Tag cloud