Flowering shrubs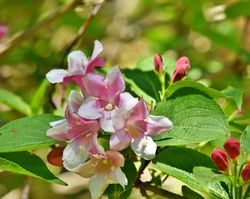 If you want to buy flowering shrubs, it is worthwhile having a browse through our large Lubera assortment. From Abelia...
More useful information about flowering shrubs
... to Cistus, in the Lubera Garden Shop you will find a rich selection of colourful, winter hardy shrubs, which are an attractive eye-catcher in almost every season, offering a variety of uses. Among them are scented wonders such as the popular
lavender
, evergreen shrubs such as the firethorn, shrubs with decorative fruits such as the snowberries and there are always interesting novelties to discover. Many varieties in our latitudes are increasingly proven to be hardy, and new, garden-friendly varieties are thrilling with their southern flair.
With flower bushes, there are many all-round talents. After a fine display of brilliant flowering, beautiful fruits often appear, such as with the flowering dogwood, which provides additional eye candy and can often even be used in the kitchen. In autumn, many bushes also score with their colourful foliage.
Large Bush Collections From Lubera®
Every bush has its own charm, so why not let yourself be enchanted by our blossoming beauties – there is something for every requirement in our garden shop! A long-lasting splendour in the garden can be achieved with a clever combination of early and summer flowering plants as well as through the targeted selection of perennial varieties such as hydrangeas.
Almost all flowering shrubs are ideal as hedgerow or specimen plants and they are convincing due to their other special properties: whether as a bee pasture or a home for birds or as part of a loosely planted scent hedge: flowering shrubs always create a perfect garden atmosphere. Even in a container on terraces and roof gardens, compact growing shrubs can grow very well and rejuvenate the senses every year.
Shrubs and perennials often enter into a special liaison and complement each other wonderfully. When everything has withered, a flowering shrub provides a beautiful structure in the garden, even in the winter. It is ideal if your flowering shrub has loose branches and deep roots, such as an ornamental cherry. In this way, shrubs that are in need of light can develop well, and there is a permanent close proximity. Perennials along a woody edge are also very attractive and they can do wonders with colours to provide creativity in garden design.
Given Lubera's huge selection of bushes, it's not easy to keep track of them all. Below, we have created some relevant categories for you that can help you make a purchase decision.
Buying Flowering Shrubs - Ecological Benefits
While perennials frequently die back in the winter, woody plants have the advantage of being present year-round. Shrubs serve many animals as a source of food, home and protection against predators. Bee-friendly shrubs – which is a special category in our shop – not only bloom beautifully, but also provide valuable nectar and protein-rich pollen to our bee friends. A key feature is that their mostly unfilled flowers are easily accessible to insects. Birds, for example, are grateful for the fruits and berries that enrich their menu. In the protective branches of some of these plants, you can find nesting birds like the nightingale. And the fruits of the Black Elder are eaten by more than 60 species of birds! Basically, if you want to observe many animals as guests in your garden, you should preferably resort to native wild shrubs. This is because the development of many insects (including a food source for birds) depends on the presence of certain shrubs.
Further Recommendations for Bird Habitats in Gardens:
• Common Snowball: this native shrub grows up to four metres high. In early summer it shows distinctive flowers in white; in autumn, red fruits shine on the branches. A snowball also thrives in the shade.
• Alder buckthorn: the berry-shaped fruits turn from green to red to black. Due to the long flowering of these woodland flowers, fruits of all maturity stages can be found on the bush at the same time.
• Dog Rose: finches, thrushes and siskins love the sweet-sour, vitamin-rich rosehips.
• Cornelian Cherry: the dark red fruits taste good to many birds, but they are also good for making jam.
Long-Flowering Trees
Some shrubs bloom for a very long time, sometimes for months, others open their flowers a second time after the main flowering period.
• Hydrangeas are particularly rich-flowering representatives; they are visually present in the garden for a long time. The whole variety of hydrangeas can be found in our categories.
• The Weigela 'All Summer Red' an impressive flowering weigela strain – it has flowers from spring to the first frost.
• The beautiful, magenta dwarf lilac 'Red Pixie' has a second bloom in summer and autumn.
• Even Potentilla, the butterfly bush (Buddleja) and the alder buckthorn (Rhamnus frangula) have long-lasting flowers.
Fragrant Shrubs
If you want to buy flowering shrubs for using in a scented garden, you will quickly find what are you looking for. The leaves of ornamental shrubs can exude a very special aroma. Beautiful fragrant shrubs include the following:
• Bluebeard
• Common lilac
• Robinia
• Butterfly bush
• White forsythia
• Winter snowball
• Wintersweet
Evergreen Flowering Shrubs
There are many ornamental shrubs that are fully evergreen even in the winter. In our shop category "Evergreen Shrubs" you can check out these flowering shrubs. Firethorn scores with its flowers and fruit as well as its evergreen foliage; it can be planted very well as a screen hedge. The leatherleaf virbunum is a shadow-tolerant large shrub and has creamy white inflorescences as well as bright red or black fruits. The cherry laurel 'Caucasica' grows upright and shines with evergreen, firm leaves. Even barberries, like warty barberry, are evergreen and exhibit pretty flowers.
Drought-Tolerant Shrubs
If you want to plant easy to care for flowering shrubs, it is worthwhile – especially in view of the changing climate with hotter summers, which tend to be less precipitous – to put more emphasis on dry-loving plants in the garden. These often come from Mediterranean regions and love locations in full sun. Here is a small selection:
• Bluebeard
• Perovskia
• Cytisus, broom
• Judas tree
• Chaste tree
• Tamarisk
• Rockrose
Shrubs with Decorative Fruits
Flowering shrubs with colourful berries or fruits provide great colour accents – often with a particularly long flowering period from late summer to far into winter. The winter fruit decorations range from white, red, orange and yellow to blue and black. Here is a small selection:
• Red, small fruits come from the common snowball, holly and firethorn. An ornamental apple scores with bright apple fruit.
• The snowberry has strikingly white or purple fruits.
• Mahonia impress with blue fruits.
• The Beauty Berry has its big appearance in early autumn when the violet, berry-shaped fruit comes to light.
Shrubs with Edible Fruits
When you buy flowering shrubs, you often get all-rounders, whose fruits can also be used in the kitchen. You should know that many fruits only become digestible for human consumption after cooking them. Very well-known and popular is for example, the unmistakable aroma of elderberries, which comes into its own in juices and jellies.
Also, the fruits of the blood red currants, flowering dogwood, common barberry, some ornamental apple varieties and ornamental quinces can be made into jams with other fruits.
Buying and Planting Flowering Shrubs
Our bushes are kept in containers. For this reason year-round planting is possible. However, the best time to plant is autumn. The planting hole should be about twice as large as the root ball. To prevent waterlogging, you should also free the soil under the planting hole of compaction. Loosen the outer area of ​​the root ball slightly before planting. The pot ball should be placed in the planting hole at the level of the surrounding soil level. In autumn, do not use a quick-release fertiliser. The soil for filling the planting hole can be mixed with mature compost. Alternatively, organic fertiliser can be added in the form of horn shavings. Finally, water your young shrub and possibly provide a watering edge around the planting site. Pay attention to the right location when planting. Some plants prefer partial shade, while others need as much sun as possible, especially during flowering.
Pruning Flowering Shrubs Correctly
If you buy flowering shrubs, adapted cutting measures are important. Ultimately, it is always about a balance between abundance of flowers and shoot growth and, of course, a harmonious overall appearance. There are certainly ornamental shrubs, including large shrubs, which need not or only be moderately cut. This is mainly about the volume development.
Here are few basic rules:
• Spring flowering plants like forsythia should be cut right after flowering, summer flowering plants like butterfly bush while they are still dormant.
• There are basal shrubs like red currants, which sprout out especially at ground level. These shrubs are also worth an occasional rejuvenation cut. The butterfly bush or the forsythia are examples of the shrub type that mainly sprouts out from the middle section of the plant. Here an annual, generous pruning of the one-year-old shoots should be done.
• Shrubs bloom either on this year's wood (e.g. butterfly bush, panicle hydrangeas, snowball hydrangea, perovskia) or on annual or perennial wood (e.g. lilac, Weigela).
- A strong and regular cut promotes many of this year's shoots. These shrubs will bloom even after freezing and you can cut them back, as they immediately form buds on the new wood. Thanks to the cut they also remain compact.
- In the case of species that bloom on the old wood, on the other hand, careful lighting should be used in order to prevent long-term bareness at the bottom area of the plants. Pruning should usually start after 2-4 years.
Tag cloud