Ornamental apples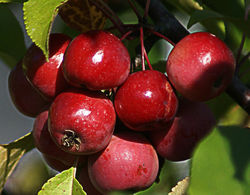 If you appreciate versatile shrubs with a charming, decorative fruit, then you should buy ornamental apples.
More information about ornamental apples
These are often referred to as multi-seasonal trees: in the spring, they attract all eyes with their fabulous abundance of flowers;in autumn their branches bend due to the lush fruit, and in winter the bright, little apples manage to stay on the tree for a very long time - the red splashes of colour ensure liveliness in the dreary season. As dwarf or large shrubs, they can be used in many different ways with their beautiful growth - even cultivation in a container is possible with the smaller varieties. So, there is a lot to be said for planting an ornamental apple. We at Lubera have put together a range of the best ornamental apple varieties for you.
In the genus Malus, there are numerous varieties of apples whose wild varieties come from Europe, Asia and America. All ornamental apples are ecologically valuable: the blossoms magically attract bees because of their abundance of pollen and nectar, and the fruits are eaten by birds. However, the mini apples are also ideal for making jelly and marmalade. In recent decades, new varieties have been created with high scab resistance, such as Malus 'Evereste' or the 'Red Sentinel' variety.
Buying ornamental apples - for the highest decorative value in your garden
Whether as a character figure in your garden or as an eye-catcher on the balcony - in the Lubera garden shop you will find the right ornamental apple for your needs. The variety 'Rudolph' shows its majestic growth and orange fruits best in a single position; Malus 'Evereste' forms small apples with a distinctive, striped pattern in yellow and red, and Malus 'Tina' is an attractive dwarf variety that thrives excellently in a container.
Small tree, shrub or bonsai
The genus Malus, which originates from the temperate north, comprises 35 species, and there are now also many decorative cultivars. They convince with their immense richness of flowers in white, pink and purple shades. The fruits are small (cherry to walnut size) and yellow to red in colour. Ornamental apples grow as shrubs or as small trees. As young shrubs, they tend to grow upright, but when they grow older they can become quite wide. Bonsai lovers also love these apples. Especially the Asian representatives, e.g. Malus floribunda, are grown in miniature form (these varieties are only available in specialist shops).
Decorative fruits in a container
If you buy ornamental apples, dwarf forms like 'Tina' or 'Adirondack' can also be grown easily in a large pot. In an unfavourable position, you should overwinter your container plant in a frost-free location. Alternatively, you can use the usual protective measures around the pot (wrap the pot with bubble wrap or fleece).
Mini apples for eating
Ornamental apples are generally edible, but often not a pleasure for humans, as their flesh is very firm and not very tasty. The fruits of 'Golden Hornet' or 'Eleyi' could, however, have enthusiasts. Mostly the fruits are made into tart and sweet jelly or jam.
Suitable location
Shrubby growth forms are grafted on medium-strong rootstocks, which require fairly good soil. Malus generally prefer soils rich in humus, which are nutritious and not too dry - waterlogged and damp soils in the winter should be avoided, however. A sunny location should definitely be chosen for the blossom and fruit set. However, avoid a place where heat accumulates, e.g. in front of the house wall. Malus apples are frost hardy and resistant to urban climates. The ideal planting time is autumn, but spring planting is also possible. Ideally, the shrub should develop deep roots before winter sets in. They can be underplanted with perennials or spring flowers that thrive in partial shade or shade. By the way, some varieties are also good pollinators for cultivated apples.
Care and pruning
Regular fertiliser applications ensure a good supply of phosphorus and nitrogen. In general, Malus apple shrubs are quite easy to care for - they usually survive the winter without any problems. In light sandy soils, regular watering is recommended to prevent mildew.
Ornamental apples are generally tolerant of pruning, as are related fruit trees. However, regular pruning is not necessary, as the fruit quality is not the main focus of the shrubs. However, they should be thinned out from time to time because in a well-ventilated shrub the susceptibility to scab is reduced. Very dense and steeply growing shoots should also be removed. With these apples, flowers are also formed on the old wood.
Decorate with small apples
If you love seasonal table decorations or wall decorations, you can get really creative with ornamental apples: arrangements and wreaths can be wonderfully designed with them. It is best to cut off the decorative fruit together with the branches - these can then be used for fastening. Glossy leaf spray for indoor plants works wonders: it gives the apples in your work of art a beautiful shine.
Tag cloud