Perennial hardy hibiscus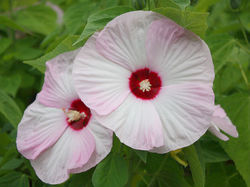 If you buy a hardy hibiscus, you will experience a flowering splendour of extra class. Its gigantic flowers, which can reach a diameter of 20 centimetres, unfold in late summer and bring the garden season to a brilliant close.
More useful information about Perennial hardy hibiscus
More information about hardy hibiscus
The overwhelming flower spectacle of Hibiscus moscheutos can be admired until autumn - a real WOWbiscus, which is also extremely hardy! The pretty, dark green foliage of this hibiscus species also makes for a high decorative value in the garden.
Have a look at our Lubera assortment if you want to bring this main attraction into your garden - we have put together the Hibiscus Luna range in enchanting flower colours for you. You can use it to create a dense, eye-catching flower hedge, but the hardy hibiscus also cuts a fine figure as a solitary plant or as a potted plant on balconies and terraces. Be patient, this perennial plant takes its time in spring, but it develops rapidly and reaches its peak later in the year. It is also called marsh hibiscus, although it only needs a lot of water during the growing season.
Buy a hardy hibiscus - the flowering miracle in XXL
In the Lubera garden shop you will find the beautifully shaped hibiscus varieties from the 'Luna' series with their delicate, silky, large flowers, which can also be wonderfully combined:
'Luna Red' in deep burgundy red,
'Luna White' in bright white with pink red eye,
Luna Pink Swirl' with beautiful colour transitions in pink and red,
Luna Rose' in dark pink with a ruby eye
The hibiscus with the huge flowers
The hardy hibiscus, perennial hibiscus, marsh hibiscus, common rose mallow or Hibiscus moscheutos, is a perennial plant that easily tolerates temperatures as low as -26°C. The home of this perennial, which belongs to the mallow family, is in North America, where it can be found in swamp and marshland - there are now also many cultivated varieties. The plants die back completely in autumn and sprout again in May when the soil warms up. From mid-July onwards they show their full flowering. The flowering period lasts until the beginning of the cooler autumn weather - soil temperatures of more than 16°C are important for flowering. The gigantic flowers attract numerous butterflies.
Buying Hibiscus moscheutos - the suitable location
These beautiful summer bloomers love a sunny location and humus, nutritious soil that stores enough water but does not have stagnant moisture. Therefore, a swampy location is not required, although the name 'marsh hibiscus' suggests it - only in summer is a permanent water supply enormously important. No special demands are made on the pH value of the soil. It is of course also possible to keep the plant in a container, which can also remain outside in the winter - but you should bear in mind that a perennial plant naturally dies off above ground in the winter.
The right care
By regular watering and fertilising (slow-release fertiliser) you will achieve a fantastic flowering. The hardy hibiscus is a heavy eater, i.e. it needs a lot of nutrients continuously. After sprouting, it is best to apply a nitrogen fertiliser. A second round of fertilisation should be applied from June onwards - for beautiful foliage, you can now use potassium- and phosphorus-based fertiliser. In late summer, no more fertilisation should be applied so that the plant can prepare for winter. After the first frost, the leaves of Hibiscus moscheutos fall off and the plant goes into winter mode. Now you can cut the old stems 20 centimetres above the ground - but this is still possible in February.
Pruning
In spring (February), you should prune the shoots back to a hand's width. If you trim the still short shoots, a bushy growth will be promoted.
Giant hibiscus - winter protection
Plant Hibiscus moscheutos in the spring if possible because that is when it can develop its winter hardiness best. For this reason, planting after September is no longer recommended. In the first year of planting, winter protection with brushwood or leaves is advisable.
Tip
The flowers of this plant are edible and give salads a special appearance. Poured over with boiling water they are also suitable for making tea.
Tag cloud