Arabis - rock cress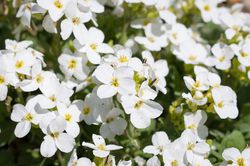 Rock cress is the dream plant of every garden fan. The perennial with the pretty botanical name of Arabis, blooms beautifully and is at the same time one of the easiest perennials to care for. Of course, you can buy this beautiful plant here at Lubera®.
More information about Arabis
The rock cress plant opens its delicate blossoms from April onwards and delights not only us but also the bees. In rockeries in sunny locations and with permeable and not too nutrient-rich soils, it feels particularly well. Here it spreads with the years by means of aboveground runners to a dense bloom carpet. It is hardy and blooms in white or pink, depending on the species and variety. White-flowering varieties such as 'Schneehaube' bring a lot of light into the bed, while pinkish red varieties such as 'Pinkie' create strong colour accents with their flower clusters. It is definitely worth buying a few specimens because this undemanding cushion plant will please for many years with its rich floral decoration.
Rock cress is edible
Worldwide, there are more than 120 different species of rock cress, botanically called Arabis. 30 of them are native to Europe. They belong to the cruciferous family (Brassicaceae), which also includes important cultivated plants such as rocket and cauliflower. So, there is no need to worry about an Arabis plant being poisonous. On the contrary: as its name suggests, it is edible. If you taste the flowers and leaves, the slightly pungent note immediately reminds you of its namesake, the garden cress. Nevertheless, it should not be eaten in large quantities and belongs clearly in an ornamental bed and not in the vegetable garden.
Plant on walls and along stairs!
These plants are particularly effective on embankments, on top of walls, between stone slabs or as edging for perennial beds. If you plant them on the side of steps, you will enjoy the spring-like splendour of the flowers at every turn. The planting time for rock cress is in autumn or in the spring, and the perennials on offer in the Lubera® Garden Shop provide you with magnificent plants.
Ideal location
A sunny location with not too dry soil is particularly appealing to the Arabis. It can also cope with partial shade, but then there will be less flowering. If you can't find a suitable place in the garden, you don't have to do without these flowering cushions. They can also be very well integrated into a balcony planting and they thrive well in balcony boxes or in a pot on a terrace, for example in combination with summer flowers.
It is green in the winter, too
One of the great advantages of these plants is that it is hardy and its finely serrated leaves remain green throughout the winter. Depending on the species, these plants reach a height between five and twenty centimetres. If they like it, they spread out quickly and make an ideal ground cover, which still blooms richly. At Lubera, different species are available in various varieties. A classic is Arabis caucasica, the Caucasian rock cress, which originally comes from the mountains of Southern Europe. Arabis blepharophylla, which is only documented in a few wild locations in California, is pleasing with varieties such as 'Spring Magic', whose fine flowers shine purple-red. Speciality plants include the Macedonian rock cresses. They comprise the variety Arabis ferdinandi-coburgii 'Variegata', a decorative plant with green-white patterned, waxy foliage or the variety 'Old Gold' with light and dark green markings. In contrast to the other species, these two prefer a rather semi-shaded location.
How to combine
The various Arabis species and varieties can be combined with each other as desired. In the alpine-inspired rock garden, other cushion plants such as Aubrieta or Alyssum but also succulents such as houseleek and sedum go well with them. A partnership with spring-flowering bulbous plants such as small wild tulips, dwarf irises or crocuses is also recommended. If you use rock cress in tufts or even flat areas, you can create particularly strong images in the beds. This requires between 12 and 20 plants per square metre.
Tips for caring for Arabis
In order to keep the plants nice and compact, it is recommended to prune them after flowering in May. Otherwise, this plant is very undemanding and hardly needs any care. An annual composting in the spring is enough to keep the plants growing. The only thing you have to make sure is that no higher and stronger growing perennials cause problems for them and hinder their spread. Rock cress has proven to be an exceptionally healthy and robust plant genus, which is not very susceptible to pests and diseases. Even the snails do not seem to like its taste. All these factors make it a very grateful garden guest.
Propagation
If you can't get enough of this plant and have enough space in the garden, you can easily provide for offspring. This is done by cutting off terminal cuttings from existing plants either in the spring or autumn and carefully planting them in the ground. Alternatively, large cushions can also be propagated by division. To do this, dig up the whole plant in late summer and cut it up with a sharp knife. Then replant both parts and water regularly until they have grown.
Tag cloud