Delosperma - ice plant
Delosperma (also known as ice plant) is a succulent ground cover plant that inspires with its bright flowers that appear throughout the entire summer.
More useful information about Delosperma - ice plant
This robust perennial is particularly suitable for sunny roof gardens or hot balconies because its fleshy leaves are very heat-resistant and the plant needs little water. This perennial forms dense, flat flowering carpets in well-drained, lean soils and it requires little maintenance. The plants have fleshy little leaves that store water. Many of them are largely hardy. The flowers open on short stems and are often visited by bees and other insects. These flowers bloom mainly in the midday sun and mostly in May and June. But depending on the variety, Delosperma can bloom throughout the summer and into October. The flowers come in various bright colours from magenta and violet to orange, red, yellow and white. The plant genus of the Delosperma belongs to the Aizoaceae family. The name 'Delosperma' is made up of the Greek words 'Delos' for 'evident' and 'sperma' for 'seeds'. The seeds are clearly visible in the opened capsules.
The Best Varieties for Sunny Locations
Delosperma cooperi is the classic variety with magenta flowers. 'Table Mountain' is particularly easy to grow and quite hardy in the garden. The plant can be perfectly combined with other succulents and drought-tolerant perennials such as houseleek and prickly pear (Opuntia). Cistus and lavender also go well with the classic crimson ice plant. Delosperma congestum is a yellow type that is a popular small plant for rock gardens. Other popular hybrid varieties are D. 'Halda' with carmine red flowers or D. 'Kelaidis', with delicately pinnate, salmon-coloured flowers. In addition to Delosperma cooperi, the small varieties are particularly popular perennials.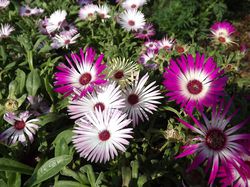 The Best Location
This plant comes from South Africa, where the species of this genus thrive on barren soil in hot, sunny locations. Wild varieties also occur in other African countries such as Ethiopia and the southwestern Arab region. Delosperma need a sunny site with well-drained, lean soil. In the winter, these hardy plants in the garden must never be too wet because they do not tolerate too much water. The plants are ideal as ground cover for sunny rock gardens and stone enclosures. These hardy perennials also like to thrive in containers in sunny locations or on tops of walls. These plants are also often used for greening flat roofs because they feel comfortable in such exposed, hot locations.
Planting Delosperma
These ground cover plants are very sensitive to moisture. Especially in the winter, they should never be too wet. Therefore, the most important thing when planting them is that the drainage of the soil is very good. Before planting, sand and coarse gravel should be worked into all but the loosest soils. Then small planting troughs are dug at a distance of 25 centimetres and the root balls are loosely placed in them. Water after planting. When the different types are cultivated in pots, a drainage layer must first be placed in the container, and the substrate must be very permeable to water. Otherwise, the plants are less hardy.
Care
If the soil ensures good water drainage, these plants will need little maintenance. In pots, the plants should only be supplied with liquid fertiliser once in April and June. In April, these ground cover plants should have a little compost and horn shavings when planted in the garden. Otherwise, these plants should be left alone. If they get too many nutrients, they will flower less. If necessary, the dense flower cushions can be cut back at any time. Basically, pruning is not necessary.
Are They Hardy?
Depending on the species and varieties, they are hardy to minus 20 or even to minus 25 degrees Celsius. The plants only reach this winter hardiness if they are protected from water and rain. This is the most important care measure for these hardy plants. In a dry location, most species can overwinter outdoors in a sheltered, mild location. However, some types only tolerate a few degrees below zero Celsius and should be brought to dry, cool winter quarters. In the garden, the not-quite hardy varieties can be covered with leaves and brushwood. A frost protection fleece also helps in the winter but must be removed at temperatures above zero degrees so that no rotting occurs.
Propagation
These popular ground cover plants can easily be propagated via cuttings. In the spring or summer, 10 cm long shoots are cut and placed in pots with growing soil. The plants root easily and they are also easy to propagate by dividing the root balls. This should take place in the spring. It is more difficult to grow the plants from seeds. The seeds are very small and they rot easily, which means that they need a lot of care. Sowing should take place under glass from February, taking care to ensure good ventilation.
Pests snd Diseases
These are basically robust garden plants with no known diseases. The main problem with these perennials is the rotting that will occur with too much water. In terms of pests, these perennials are also robust. Only the young seedlings are sometimes visited by snails. It is worthwhile here to surround the little plants with sharp gravel or to sprinkle crushed eggshells around the young plants.
Tag cloud