Yarrow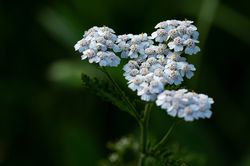 Yarrow has its permanent place in the English cottage gardens; otherwise, these perennials are seen far too seldom as garden plants and are often underestimated.
More information about yarrow
If one discovers them in a bed, they are usually yellow. Meanwhile, however, there is a large selection of new breeds with captivating colour variations. You can buy these plants in terracotta, pink, white and yellow up to ochre and red in various shades. Yarrow can be used in mixed perennial beds in many different ways and with great effect. No matter which variety or colour: planting this perennial means setting an accent. In addition to bright colours, we also offer subtle pastel shades. They all bring a natural flair to the garden.
Buy from the Lubera garden shop
There is a large selection of different varieties available here in our garden shop. Most garden varieties are bred hybrids of the species Achillea millefolium and Achillea filipendulina. Many proven varieties, such as the light yellow hybrid 'Credo', come from the well-known German plant breeder Ernst Pagels (1913-2007). One of the best-known varieties is Achillea filipendulina 'Coronation Gold' (yellow or golden yellow), which has an enormous luminosity. The variety 'Wonderful Wampee' (pink) is not only very decorative in beds, but is also very well suited as a cut flower and for dry bouquets. A speciality is Achillea ptarmica 'Snowball' (white). It forms lovely, densely double flowers and likes soils that are not too dry. The Achillea filipendulina hybrid 'Heinrich Vogeler', which is very stable, also blooms white.
Botany
The flowering time for yarrow is in the middle of summer, from June to September. Its botanical name Achillea refers to the Greek hero Achilles, who is said to have treated his wounds with yarrow. The herb of this perennial has an aromatic taste and, as the German name suggests, is said to make lamb taste particularly good. Above the finely pinnate foliage are umbrella-shaped flower plates composed of dozens of small individual flowers. It belongs to the family of the daisies (Asteraceae) and is native from Europe to Asia as well as in North Africa and the United States. The common type is often seen in our country, Achillea millefolium, which occurs in meadows and along roadsides.
Planting
For the best planting results, choose a sunny location with loose soil. This is because the more sunshine there is, the better the plants will grow. Loamy, wet soils are not suitable. Rather, yarrows like permeable, but nutrient-rich locations that are rather dry. Lean soils should be improved with ripe compost before planting. Grey-leaved varieties tend to need more sun than green-leaved ones. Depending on the variety, these plants grow to a height of between 40 cm and 100 cm. They go well with grasses like Stipa (feather grass) or with perennials like cranesbill, red hot poker, coneflower or globe thistle. They also look good in a single position, for example in a display bowl on a terrace. Due to their similar demands, varieties such as 'Credo' are also excellent partners for roses.
Care
Once this perennial is planted, the care is very manageable. It belongs to the easy-to-care-for and very easy to cultivate garden plants. It hibernates without any problems in our gardens, it is perennial and sprouts again every spring. It is recommended to cut them back immediately after flowering if you want to encourage them to flower twice in autumn. The inflorescences can then be left in place over the winter. Covered with frost and in the light of the winter sun they make a very decorative picture. If you divide the clumps from time to time, you can extend the life span of your yarrow considerably. In the summer, it is recommended to give support to higher growing varieties in particular, so that they remain beautifully stable.
For healing
Is yarrow poisonous? No, it is not poisonous. The common type is even considered a valuable medicinal plant, which was already mentioned in the works of the universal scholar Hildegard von Bingen (1098-1179). As a tea, this ancient medicinal plant helps with stomach and gynaecological problems. Not only the blossom but the whole plant including the leaves are used for this purpose. It is best harvested during the noon heat. The contained essential oils excude a pleasant scent.
The German name "Schafgarbe" (yarrow) creates a reference to the healing powers of the plant: the name "garbe" comes from the Old High German word "garwe", which means "healer". This plant is used as a tincture for headaches or sunburn.
We think that this plant definitely deserves more attention in garden beds. Anyone who wants to add verve and naturalness to summer beds should definitely buy this perennial. With their colour variations, they can be combined well with a wide variety of flowering perennials and grasses. In addition, this a very easy-care and robust perennial that is largely left alone by pests.
In our stop, you can choose between a single plant in a pot or you can buy sets with three or six plants. When buying several plants, you will benefit from the attractive quantity discount. Of course, you will receive all varieties in the best gardening quality.
Tag cloud