Rhubarb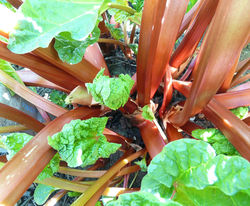 If you buy rhubarb plants from us, you will quickly learn to appreciate and love this vegetable: rhubarb tastes like...Rhubarb: unmistakably fruity, sour and sweet.
More information about rhubarb plants
As healthy and very tasty harbingers of spring, our rhubarb plants come at just the right time from about mid-April. With its easily digestible fruit acid as well as a multitude of minerals and essential vitamins, the thick and fruity tasting stalks are real pick-me-ups that will drive away even severe spring fatigue in no time. When you buy rhubarb plants, you first have to make a basic decision whether you want to plant a classic rhubarb, which will fruit in the spring until the longest day, or whether you want an everbearing rhubarb variety such as 'Livingstone'. Within the classic spring rhubarb, 'Early Green' is certainly the earliest and greenest variety, providing huge yields. The 'Raspberry Red' variety is red on the outside of the stalk and green on the inside with very regular and high yields. The current best variety with red stalks, also in the flesh, is the syrup rhubarb 'Canada Red'. As the name suggests, this variety is by far the best variety for making syrup because of its mild taste, its quick and easy cooking and its colour. But we should also not forget the absolute speciality, our mini rhubarb, the variety 'Lilibarber', whose stalks and leaves grow to a height of only 20 cm and are used finely cut mainly as a spice.
Our short descriptions of the following five varieties will help you to make your choice:
Ripening period: End of April to early June
Stalks: Red-green coloured and medium-thick
Flavour: Mildly acidic, very good taste
Special features: Large and regular yields
Ripening period: Mid-April to early June; a very early variety
Stalks: Thick, very large and almost entirely green stalks
Flavour: Pleasant, slightly acidic and refreshing
Special features: An excellent variety for making cakes; also suitable for forcing due to the rapid development of the stalks
Ripening period: End of April April to early June; medium-early variety
Stalks: Medium-thick, very many stalks, coloured red throughout from the beginning of the harvest season
Flavour: Pleasant, mild
Special features: Cooks very quickly, ideal for syrup production; the syrup takes on a striking pinkish red colour
Ripening period: Beginning of April/mid-April to end of October
Stalks: Pinkish- ed on the outside and green on the inside; otherwise medium-thick, long stalks
Flavour: Fine rhubarb aroma, which is milder in comparison to the green varieties
Special features: Extremely long harvest time until autumn
The everbearing Livingstone also starts very quickly and very early in the development of the stalks, and is therefore also well suited for forcing and early growth
Home gardeners who only have a terrace by the house or a small balcony have had to hold back on buying rhubarb plants for reasons of space alone. Now, with our Lowberry® Lilibarber®, a true miniature rhubarb, this unwanted abstinence is over. Even though the stalks are only 10-20 centimetres long and four millimetres thick, they are ideal as an addition to a variety of salads and provide a fruity and sour contrast in many homemade desserts.
The history of rhubarb
As a medicinal plant, rhubarb already inspired the Chinese more than 3,000 years ago because the rhizomes of these knotweed plants were considered to have above-average healing properties. First, the Arabs brought the roots to Europe, and from the early modern age the Russian Tsarist Empire, under a monopoly regime, imported the valuable medicinal roots which were supposed to cure intestinal ailments. On the way from China via Siberia to Europe, the most varied types of rhubarb mixed and rhubarb stalks were suddenly being offered on the markets in the big cities such as London, Hamburg and Paris. John Parkinson, the pharmacist of King James the First, is said to have planted rhubarb in his garden at the beginning of the 17th century, but never used it in the kitchen. Since the 17th century, there have been repeated attempts to grow rhubarb, but not because of the stalks, but to finally break the Russian Tsar's monopoly on rhubarb imports. At the beginning of the 19th century, however, rhubarb was suddenly present as a vegetable, as there was now enough sugar on the market...The fact that rhubarb rhizomes can be forced early in the rhubarb season was discovered by chance in 1817 in London's Chelsea Physic Garden. By the middle of the 19th century, England was already a distinct rhubarb nation, with closed cultivation areas, and the Americans and Australians were also eagerly emulating the old motherland in rhubarb. And today you can buy these plants from us, whose yields, colours and aromas will delight you.
What exactly is edible in rhubarb plants?
Before you buy rhubarb plants for growing in your own garden, you should, of course, ask yourself what you will actually use it for after harvesting. You may well come across 'medical' literature in all kinds of bibliophilic treasures from centuries gone by, under grandparents' attics, where you can read about the sensational healing powers of dried rhubarb flowers and leaves. Better NOT believe it! In an already several years old issue of the magazine 'Essen & Trinken' you can read: 'On the third day of creation, when the good Lord had a bucket of fruit acid and a tube of red fruit paint left over, he quickly invented rhubarb. Since then, however, rhubarb seriously considers itself a fruit and feels most comfortable among fruits. An aberration of sentiment, which clever cooks should take advantage of.' (end of quote). And these same cooks use only and exclusively the stalks in the preparation of their delicacies after they have been peeled (if necessary) and at least blanched with boiling water.
Where do you put it in the garden?
The best place for the plants, which will later take root up to one metre deep, is in a semi-shaded spot in the garden, which should not be in the immediate vicinity of trees or taller shrubs. The area must be at least one square metre, as the panicle-shaped inflorescence of somewhat older plants alone can grow up to two metres in height. You should clarify the space available before you buy rhubarb plants.
When to plant and how?
Before planting, loosen the soil thoroughly and as deeply as possible so that there is enough space left on the upper part of the root ball for a three to four-centimetre thick layer of compost or topsoil. And as with all container plants: do not forget to tear open the root ball (with a kitchen fork or small garden claw) before the rhubarb plants are placed in the garden soil. Use a nutrient-rich, moist soil, which must not be prone to stagnant moisture. Stable manure or chopped compost will ensure particularly good growth and decent yields. Buying rhubarb plants at Lubera is possible from February to November. But as an experienced Lubera customer and attentive reader of our gardening guide you have long known that container plants can be planted in your new soil almost all year round. Incidentally, strawberries, peas and lettuce are among the rhubarb's rather good neighbours.
Rhubarb can also be planted in semi-shade, exceptionally with some loss of yield even in shade. This, of course, increases the possibilities for use in the garden, where otherwise all plants aspirate to the sunniest places.
Planting distance
If you buy and plant several rhubarb plants, we recommend planting them in a continuous bed, staggered to each other: the planting distance between rows should be 50 cm and 80 cm in a row. Small groups of three rhubarb plants can be planted in an equilateral triangle with a spacing of about 80 cm.
Fertilising
When you buy our Lubera rhubarb plants, you can rely on high longevity of the plants as well as on worthwhile yields. They are easy to care for, hard to eradicate, are almost never attacked by pests or diseases and actually only need sufficient irrigation during their growing season. We recommend daily watering during the first two to three weeks, especially for the newly planted young plants, whereby the formation of waterlogging must be avoided at all costs. Rhubarb can easily be fertilised completely organically. From February to March, use rotten manure or well-matured compost from our own production. Alternatively, it is best to apply around 30 grams of 'Frutilizer® Seasonal Fertiliser Plus' per plant, which can be applied in March/April.
Care
If the nutritional condition is good, rhubarb plants are extremely easy to care for - actually, you don't have to do anything, which is good news. However, you should harvest diligently in April and May, as otherwise, the leaves become too old and spotty...So the harvest is almost the only care measure...
Should the inflorescences of rhubarb be interrupted or not? This question about care is asked very often. Basically, it can be answered with YES: if you see inflorescences appear, just break them out as early as possible. The flowering, as well as the subsequent seed ripening, take too much power away from the rhubarb, which is then missing during leaf formation and leads to a smaller harvest.
An exception is the very strong growing, everbearing rhubarb variety 'Livingstone', which from the 3rd year of growth, well established, can also feed a flower from time to time, which of course increases the ornamental value of the rhubarb immensely. With the other rhubarb varieties, however, one should refrain from wanting to take the aesthetic flowering pleasure with you.
In the Lubera® rhubarb breeding we are currently trying to find other varieties that can even produce several flowers and still produce a sufficient yield.
When to harvest
If you buy a strong Lubera rhubarb plant in autumn or early spring (in a 5 L pot), you can harvest 1-3 stalks already in the spring. This advice is rather unusual but has to do with the fact that we do not cultivate the rhubarb plants in a small pot of 1-3 L, but rather give it 5 L of soil substrate in the nursery...The consequence of this more elaborate pre-cultivation in the nursery is this: the plant and stalks are stronger and so a trial portion can be harvested in the first year if it has been planted early. By the way, all these tips should always be adapted to the respective plant: if the plant is growing like crazy, one more stalk is possible; if the plant is not yet getting off to a good start in the first year, you should exercise restraint when harvesting.
How to harvest
From the second and third year of standing, the normal harvest begins. As a rule of thumb for the harvesting period, from April to June, the harvest quantity should be between one third and a maximum of half of all stalks grown up to that point. This is particularly important: never cut your rhubarb, but simply break it out. If you pull the rhubarb stalk slightly and twist it sideways at the same time, it will separate at the bottom at the predetermined breaking point, which nature has also provided for breaking stalks in storms and clumsy animals. At this predetermined breaking point, the rhizome is protected against invading diseases by a layer of skin and a sticky, soapy coating. If, on the other hand, one simply cuts off a rhubarb stalk, a piece of of the stalk remains at the base, which in the worst-case begins to rot. By the way: when you buy our rhubarb plants, the free guide 'Lubera helps' is always included with your order. In this guide, as well as in the descriptions of the articles in the shop, you will find a number of additional and very useful tips for the cultivation and overwintering of the various rhubarb varieties.
For how long can rhubarb be harvested?
This question, which is also frequently asked, is traditionally answered by saying that the harvest should be stopped with the longest day. This is basically correct: later the stalks have a higher content of oxalic acid, but above all the rhubarb plant needs the remaining assimilation area to strengthen the rhizome and thus the next year's yield. So if you stop harvesting in mid-June, you will have a higher yield the following year.
As an exception, the everbearing rhubarb variety 'Livingstone' should again be mentioned, which continues to grow unhindered by the summer heat in the summer and autumn. Here, harvesting can, and should, continue even with masses after the longest day. The slightly higher content of oxalic acid does not play a decisive role, as rhubarb is not normally consumed per kg per day. With fresh 'Livingstone' stalks, you can bake refreshing rhubarb cakes even in the hot summer.
Transplanting rhubarb
Often after about 8-10 years, one notices that the rhubarb plant yields are smaller, produces fewer stems and also thinner stems. In this case, there are two possibilities: buy a new rhubarb plant, or dig out your rhubarb plants in June to early August, cut off the leaves and divide the rhizome into smaller parts, whereby a bud should always be visible on each partial rhizome. Then plant the rhubarb roots in a new place so that the rhizome is covered by about 1-3 cm of your topsoil.
Dividing in the summer is better for the plants; they usually grow further without problems than when divided in the winter because the plant is actively developing. In the winter, the divided rhizomes are almost defenceless against the attacks of rot.
Tag cloud