K&K Dahlias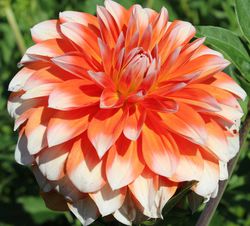 One has tried to domesticate the dahlia, to confine it to a height of 30 cm, to reduce it to a flower shape, to make it an interchangeable pot plant. This is not the case with the K&K dahlias! Check out the assortment in the Lubera Garden Shop.
More information about K&K dahlias
The Austrian breeder Peter Haslhofer does the pure opposite: he cultivates the versatility of the garden dahlia, its shapes, colours and growth types, which can be combined again and again. The result is this: proud, noble dahlias, versatile, but always very stable and robust, pure joys of life, paired with Austrian charm. That is where the name fits: K&K dahlias - the elegant dahlias from Austria.
Dahlias are not hardy
Dahlias are not winter-hardy, but their tubers can be stored and overwintered at approx. +5 degrees Celsius in a frost-free, not too dry and not too humid room.
Our tip: plant dahlias as young plants
Plant the desired dahlias as young plants after the last spring frosts. They develop faster and are flexible and versatile.
Tag cloud