Fargesia bamboo - without rhizomes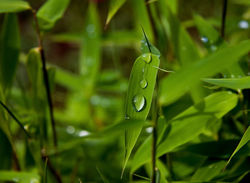 The Fargesia bamboo is the most common garden bamboo in European gardens, along with the Asian bamboo (Phyllostachys).
More information about Fargesia bamboo - Bamboo without rhizomes
Its good frost hardiness, fast growth, the evergreen leaves and above all the clump-like growth (i.e. no rhizome barrier necessary) make Fargesia bamboo plants ideal for gardens. Its versatile use as a hedge, as an accompanying plant on the banks of ponds, as a solitary plant or as bamboo in a pot leaves nothing to be desired.
Fargesia bamboo in the Lubera® garden shop
With our exclusive range of bamboo, we can help you to choose the most beautiful, hardy Fargesia that will best fit into your garden. One of the most popular species is probably Fargesia murielae, of which we offer several varieties.
Our varieties have a lot to offer: different shades of green leaves, spectacular stems colours and dense foliage - everything a gardener's heart desires.
Fargesia robusta 'Campbell' deserves a special mention. Thanks to its vigorous growth it can also be planted as a substitute for a Phyllostachys bamboo. It is a very beautiful and vigorous variety with dark green stems and light-coloured leaves and is the strongest growing bamboo in our wide assortment. 'Campbell' is a hardy species and - like all Fargesia - does not form runners. Its stems, which can grow up to 6 metres high, have a correspondingly large diameter and are therefore very stable.
A further possibility would be, for example, the particularly hardy variety 'Jiuzhaigou 1'®. The stems of this bamboo turn orange to yellow from the 2nd year and later when there is enough sunlight, they appear reddish. It reaches a height of up to 3.5 m and becomes up to 2 m wide.
The most beautiful Fargesia varieties, their use and care
There are different Fargesia types, which differ in their growth form. In our Lubera® Garden Shop, you can find bamboo varieties that have an overhanging growth as well as varieties that are more upright. For small gardens or a green eye-catcher on a terrace, the upright growing varieties such as 'Jiuzhaigou 1'® are best suited, while the slightly overhanging varieties such as 'Campbell' need a little more space. They are well suited as solitary plants. Regardless of the variety, Fargesia bamboo is very easy to maintain and undemanding.
Bamboo hedges
Fargesia bamboo is usually planted for a bamboo hedge, more rarely Phyllostachys bamboo, because the latter forms long runners and therefore needs a root barrier. The umbrella bamboo, with its filigree foliage, nimble and dense, offers reliable and easy-care visual protection.
In a pot
Fargesia bamboos grow clump-like; they do not form offshoots like the Phyllostachys bamboos and are therefore particularly well suited for growing in pots. The Fargesia like a slightly acidic to neutral soil, so the Lubera Fruitful Soil No. 1 Pots & Containers is perfectly suited for this. This pot plant substrate also promotes good drainage, which is essential for a healthy root system of the bamboos in the pot. When fertilising, a rather high dose of slow-release fertiliser should be used (Frutilizer Seasonal Fertilizer, 25 grams per 5 L pot volume), as this plant has a high demand for nutrients. In addition, it is certainly positive if every few weeks additional water is poured on with 5 grams of Frutilizer Instant Solution dissolved in it: this provides the bamboo roots with the urgently needed iron, which is often missing or not available. Iron deficiency is usually indicated by yellow leaves on the stems.
Winter hardiness of Fargesia bamboo
Fargesia is hardy. A well-rooted plant does very well in European gardens during the cold season. Bamboo planted in containers need a little protection during the winter. Place the planter against a warm house wall and pack it with winter protection fleece; the stems can be tied together in order to protect them from any snow. Planted out and even more so when grown in a container, especially on sunny winter days and when the soil is frozen, make sure that the plants are not exposed to direct sunlight because this will draw too much water out of the plant, which cannot be replaced by the frozen roots.
Pruning
Botanically, bamboo does not belong to the woody plants, but to the family of sweet grasses. However, it differs from other ornamental grasses in that it forms perennial stalks and therefore must not be cut at ground level in the spring. Of course, the old stems can be cut off at ground level at any time with sturdy branch shears. This way the young shoots get more sunlight, colour better and form new leafy side shoots.
Unlike normal hedges, bamboo hedges are cut in the spring before the new shoots appear. The cut off plant parts are easy to chop up and can be used to mulch other garden plants.
Tag cloud