Buddleia, butterfly bush
A buddleia brings cheerfulness and liveliness to your garden. Our assortment contains many varieties that inspire with bright colours and a beguiling scent.
More information about buddleia
Beautiful butterflies, busy bees and bumblebees are magically attracted by these shrubs, hence the name butterfly bushes. The colour spectrum is wide and splendid: pure snow-white as in 'White Bouquet', bright pink as in 'Pink Delight' and a strong violet-blue as in 'Empire Blue'.
Table of contents
The buddleia assortment at Lubera®
Compact varieties of the BUZZ series
Dwarf butterfly bushes of the CHIP series do not produce seeds!
Buddleja alternifolia
A butterfly paradise
Is buddleia a lilac (syringa) or not?
Lubera garden tips for planting
The best location
Fertilisation and watering
As a potted plant
Pruning
Cutting faded flowers
Overwintering
Even more interesting facts
The buddleia assortment at Lubera®
All buddleias in our shop are very robust, extremely high flowering and easy to cultivate garden shrubs. They are excellently suitable as a flowering hedge or as a solitary flowering shrub. Think also of the possibility to plant several butterfly bushes with different colours together and thus give your garden a very special note. So, if you want to buy and plant a buddleia, Lubera® is the right place for you. At the bottom of the page, you will find out everything about pruning and the care of your butterfly bush.
The buddleia, butterfly bush, or buddleja (its botanical name), begins to bloom from the end of June to the beginning of July. Throughout the summer, buddleia forms new fragrant flower panicles, gives off a scent of honey and almonds, attracts countless insects and butterflies and lets you participate in this beautiful garden and nature spectacle until September. Our Lubera assortment offers varieties of butterfly bushes for connoisseurs. The compact varieties of the Buzz series, such as Buzz Midnight or the seedless types of the Chip series, where Purple Chip is particularly beautiful, can also be cultivated well as potted plants.

Compact buddleias of the BUZZ series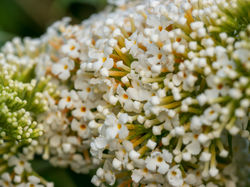 In the Lubera garden shop, you will find a nice selection of compact growing buddleia. If a normal butterfly bush can grow 300 cm and more, these varieties will only grow about 100 to 150 cm high. The compact types in the BUZZ series represent a wide range of colours, from the white of the 'Buzz Ivory'® variety, through the pink of the 'Buzz Velvet'® variety, to the crimson of the 'Buzz Magenta'® variety. Here you will certainly find your favourite colour if you want to plant a buddleia shrub that grows rather compactly and flowers all summer long. With these compact growing and flowering varieties, we can meet the wish of many hobby gardeners for a long flowering period and a lower growth rate, which fits better into the ever-smaller gardens or urban gardens.
Dwarf butterfly bushes of the CHIP series do not produce seeds!
The types of buddleias in the CHIP series, which are bred in the United States, grow to a height of barely 100 centimetres and show a very dense, roundish, closed growth. In terms of their flowering and robustness, these dwarf butterfly bushes are in no way inferior to their bigger brothers!
Apart from their extreme compactness, they have another advantage: they do not produce seeds! This takes the wind out of the sails of the buddleia critics, who like to demonise this beautiful summer bloomer as invasive and almost call it dangerous. Of course, this is not true of any buddleja variety and the RHS, the Royal Horticultural Society, has also concluded after a long period of examination that buddleia shrubs enrich our gardens and do not pose any real danger. But it can be a nuisance when seeds fall out of the withered panicles and young buddleja germinate here and there in the garden, which must then be weeded. But even this is a thing of the past with the varieties in the Chip series because they have sterile flowers. At the same time, this also leads to them flowering even more, as they no longer need to expend any energy for the formation and maturation of the seeds.
The super-compact, small shrubs of the Chip series are particularly suitable for growing in pots and smaller gardens. They can make a nice little hedge that frames another planting. They are also excellent as ground cover plants in a narrow bed. For those who like pure white, we recommend the beautiful variety 'White Chip'. The 'Lilac Chip'® variety, on the other hand, will delight you with its classic lilac colour.
Buddleja alternifolia - the hanging buddleia
With the right choice of buddleia species, you can prolong the flowering time in the garden. The main flowering period of most species and varieties of this plant is from July to October. Buddleja alternifolia, on the other hand, blooms as early as June. This species is also less sensitive to frost in the spring than Buddleja davidii, which likes to freeze back during spring frosts, but then starts flowering with a little delay.
B. alternifolia has very narrow, lanceolate leaves, which brings out the light purple flowers even more in the summer. The main shoots are upright and the side shoots are strongly overhanging. This ornamental shrub is a fast-growing shrub. It reaches a height and width of about 2-3 metres.
This hanging type flowers on old wood. You should therefore only cut the shrub and not - like Buddleja davidii - cut it back completely, otherwise, it will not flower the following year.
A butterfly paradise
This plant offers all butterfly lovers the best opportunity to see types such as the admiral, dovetail, swallowtail, small fox and peacock butterfly from close up. It is an advantage if your buddleia is free-standing, i.e. not flowering under a tree, so that birds do not have a comfortable position to hunt butterflies and other insects.
Do you like to see cheerful and colourful butterflies fluttering from flower to flower in your garden? Then don't forget to keep some places ready all year round with typical food plants for caterpillars. Stinging nettles serve as caterpillar food for many more common species, other important caterpillar food plants (which even all provide nectar and pollen in addition) are sloe, hawthorn and alder buckthorn as well as various types of clover.
Is the buddleia a lilac (syringa) or not?
Botanically speaking, the buddleia is not a lilac, nor is it related to the true lilac. The common lilac (Syringa vulgaris) originally comes from the Balkan region and reached Central Europe via Turkey in the 16th century. The buddleia originates from China and Tibet. The white, pink, purple, violet or dark blue inflorescences of this plant are very similar to the flower panicles of the common lilac (syringa), which is why the buddleia bushes are often called summer lilacs, garden lilacs, butterfly lilacs or simply lilacs.
By the way, the term 'lilac' has been applied twice to new plants, because even before the introduction of the true syringa lilac in Central Europe, elderberry (Sambucus) had already been called lilac in many German-speaking regions...
The combination of the two plant species syringa and buddleja are very practical as they complement each other in flowering: The buddleia blooms in the summer after the lilac syringa, which blooms in May. In this respect, the similarity in name is a good reason to plant the two plants together in a flowering hedge.
Lubera garden tips for planting
The buddleia plants that are offered in our Lubera Garden Shop are all container plants and can be planted at any time (of course if the soil is not frozen). However, the very best time for planting them is in the spring. This allows the plants to take root sufficiently until autumn and they survive the winter better than shrubs planted in autumn. But summer and autumn plantings also work without problems if you plant the young plants about 10 cm deeper, i.e. if the edge of the pot is still covered with your garden soil for about 10 cm. This ensures that the plant will sprout from the base again in the spring. In any case, when planting in the summer and autumn, we recommend cutting the buddleia shrubs back to 15 cm in the spring to ensure bushy, regular and flower-rich shoots.
The planting hole must be twice as large as the root ball of the potted plant. As already mentioned, it is advantageous to bury the root ball a little deeper and to cover about 10 cm with your own garden soil to ensure that the shrub will sprout from the base again even in a very hard winter. In the case of a hedge with buddleia, a distance of 1.5 metres should be kept between the ornamental shrubs. Before planting, the root ball should be thoroughly watered. Compost can be added to the planting soil; if no compost is available, please add approx. 10-20% of Fruitful Soil No. 2.
The best location
The location should be sunny, but partial shade is also gratefully accepted, however tne plant will have fewer flower panicles. In the garden, these plants prefer locations with light and permeable soils. When choosing the location, the expected height of about three metres should be taken into account for varieties such as 'Royal Red', 'Empire Blue' or 'White Profusion'. It would also be nicer for this decorative ornamental shrub if it could be sheltered from the wind.
Fertilisation and watering?
Fertilising in the spring, e.g. with a Frutilizer® Compound Fertiliser Plus from Lubera, is highly recommended. A smaller dosage is also advisable after flowering.
Buddleia should be watered when they are dry. If the shrub is firmly rooted, additional watering is only necessary on very light soils and in phases without any precipitation. Especially young plants and potted plants should not be allowed to dry out. However, waterlogged water cannot be tolerated. Unlike many other plants, buddleia can be watered with calcareous water. To keep the moisture in the soil longer, it is recommended to apply bark mulch to the root area. However, this should only be done in the second or third year of planting, and you should also bear in mind that the bark mulch binds nitrogen and therefore the fertilisation needs to be increased somewhat.
As a potted plant
Compared to the common lilac (syringa), the butterfly bush (buddleja) smells much more intense, sweet and above all it attracts countless butterflies, bees and bumblebees much longer. And these beautiful and useful insects are of course reason enough to choose a buddleia in the Lubera garden shop and plant it in a nice container. The butterfly bush in a container can always be placed exactly where you spend the most time in the garden. This way you can watch the life of these beautiful insects up close and in peace while drinking coffee.
Best suited for keeping in a pot are the types in the compact, sterile varieties of the Chip series, they are well hardy, compact and very well-branched. The bushy growth gives the summer lilies in a container a particularly beautiful, round crown.
In addition to the Chip-Buddleja, those varieties of the BUZZ series, which only grow 1.5 metres high, are particularly suitable for planting in pots. The butterfly bushes of the small Buzz® series wonderfully intense colours are also suitable for gardens with less space due to their small size. They are extremely flowering (from the end of June to October). The intense colours and pleasant fragrance attract butterflies and other flower visitors just as much as the taller varieties.
Other Buddleja davidii varieties can also be grown in pots without problems. However, these shrubs need to be cut more and replanted in a larger pot every 4 years.
If you have decided to grown your butterfly bush in a container, a 15-litre pot is recommended for the first 3-4 years, after which you can transplant the shrub into the 30-litre container. We recommend using Fruiful Soil No. 1 for pot cultivation. For fertiliser, you can add 20 grams of Frutilizer® Seasonal Fertiliser Plus per 5 L pot volume per year. After planting, the butterfly bush should be placed in partial shade for about a week. After this short acclimatisation period, the pot can be moved to a sunny location.
Over the winter, the planters should be wrapped in an anti-freeze fleece and placed on a polystyrene block. The root area is covered with straw or brushwood. The shoots can also be wrapped in frost protection foil. The summer lilacs must also be watered in the winter. Please do not water too much, just enough to prevent the root ball from drying out.
If you are now in the mood for butterflies and butterfly bushes and would like to buy these beautiful and literally living flowering shrubs, take a look around our Lubera garden shop! Choose your favourite variety from the comfort of your home and we will send you your plants carefully packed.
Pruning
Basically, buddleia's are very tolerant of pruning, so that as a hobby gardener you can hardly make a mistake. Since they flower on annual wood, you should make the cut on a frost-free day in the spring or late winter. Pruning promotes flower formation, keeps your bushes young and also more compact. Remove the old and - if present - frozen shoots. Crossing shoots and shoots growing inwards can also be cut off. The remaining shoots are cut back to about 40 cm.
Do you think this is too radical? Just try it and you will be surprised by the richness of the flower and also by the beautifully round shape of the shrub. If you cut the lilac less and let the wood grow older, it will immediately get bare in the lower part and only have flowers at the top, at a height of 2-3 m...
But watch out: the alternate-leaved butterfly bush (Buddleja alternifolia) should not be cut in late winter, but only somewhat thinned out after flowering. The reason is that this Buddleja species forms its flowers on the previous year's branches, on the old wood.
Cutting faded flowers
The buddleia owes its popularity among other things to its abundance of flowers. With a few care tips from Lubera, you can make your ornamental shrubs bloom even more. For example, it is advisable to cut off the faded flower panicles whenever possible in order to encourage re-flowering. If you cut off the withered flower panicles after flowering, you will also prevent the seeds from forming and you will stimulate the plant to form new flower buds.
Overwintering
The Buddleja davidii is hardy down to -20°C and can survive the cold season in Central Europe without any problems. This applies to the whole plant. But it can happen that the shoots will freeze back a little over the winter at temperatures below -15°C. But don't worry, in the spring these plants will sprout from the base again without any problems...From this point of view, Father Frost only helps with pruning, which should be done relatively radically anyway (see above).
Young plants should be protected from frost and cold in the first winter with a cover or made of leaves or straw or with fleece. With age, this is no longer necessary for butterfly bushes.
Buddleias cultivated in a plant pot should be moved to a cool winter location if possible. The potted plants can also winter outside, provided they are protected (e.g. against a house wall) and stand dry. The pot should be wrapped with fleece. Or you can place the pot in a large wooden box, filling the space in between with bark mulch or leaves or straw.
Even more interesting facts
Do you know that there are around 100 different Buddleja varieties worldwide! For example, there is not only the usual butterbly bush Buddleja davidii, but also a pretty yellow cross Buddleja x weyeriana (B. davidii x globosa), whose flowering period lasts even longer, into October.
The butterfly bush belongs to the family of the figwort amily (Scrophulariaceae) and is cultivated as a shrub and, although more rarely, as a tree.
In the meantime, as a result of intensive breeding work, numerous beautiful Buddleja hybrids have been created. Have a look around in our Lubera garden shop and you will surely find what you are looking for.
Butterfly bushes (buddleia) are first and foremost associated with the beguiling scent and the beautiful butterflies. However, the butterfly bush is not only interesting for butterflies, but also for other insects. Above all, it offers a great source of food for bees and bumblebees and is therefore quite rightly described as particularly bee-friendly.
In China, its great popularity also stems from the fact that this ornamental shrub is a medicinal and medicinal plant. In TCM, Buddleja is used in internal medicine, especially in the treatment of liver and bronchial diseases, as well as externally. The drops from butterfly bush are also used in European alternative medicine.
In addition, the cosmetics industry, especially the natural cosmetics industry, has discovered the Buddleja plant for itself. Buddleja extract can be found in many skincare products, for example.

Tag cloud