Ninebark
When you buy a ninebark plant, you get an expressive and easy to care for decorative addition for your garden.
More useful information about Ninebark
These plants are a feast for the eyes at any time - due to their special foliage they show a wonderful play of colours from spring to autumn, which provide wonderful accents due to the bright red tones. From May to June, the shrub adorns itself with its decorative, dense inflorescences in creamy white or delicate pink, at a time when many other woody plants are already in bloom. The plant is also a real eye-catcher in the colder season: after an intense autumn colouring, it's interesting, slightly leafy striped bark comes into its own.
As an ornamental shrub, ninebark is a real powerhouse: it thrives on practically all garden soils in sunny as well as semi-shady locations. Butterflies and bees love to visit the shrub as its flowers are an attractive source of nectar. The small, red capsule fruits are also very much appreciated by birds as a food source.
Buying ninebark - a flowering shrub with great effectiveness
Let yourself be enchanted by the beauty and energy of the ninebark and discover the wide range of varieties in the Lubera® garden shop! The uses of this ornamental shrub are almost unlimited. Whether in front of a light-coloured house wall as an solitary planting, in a group with other garden beauties or in a large container on the terrace - a ninebark is always an impressive sight.
The variety 'Diabolo' impresses with its dark red foliage, which stands out wonderfully against the delicate white flowers.
'Nugget' shows lime green foliage and creamy white flowers.
'Tiny Wine' inspires with its colour intensity and is a compact, slow-growing shrub that fits perfectly into smaller gardens.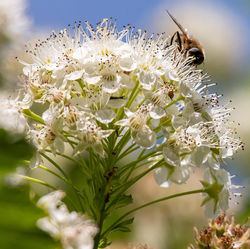 Things to know
Ninebarks belong to the rose family and are popularly known as the devil's shrub (in Germany) because of their strong colouring (especially the 'Diabolo' variety). The snowball leafed type (Physocarpus opulifolius) is a popular ornamental shrub that is available in many varieties. It originates from North America. The ornamental shrub is deciduous and generally non-toxic. All types are hardy and can survive temperatures as low as -35°C. The three-lobed leaves are located on long stems. Their fruits (bladder fruits) are slightly blistered and can be found on the branch even in early winter. With its bushy and rather fast growth, this ornamental shrub that is also a wonderful screen. In combination with other flowering shrubs, it can be used as a hedge plant. It is also a beautiful eye-catcher as a solitary shrub. The growth height of the individual varieties varies; generally speaking, a growth height of 3 to 4 metres can be assumed.
The suitable location
If you buy a ninebark, it is robust and undemanding in terms of maintenance. It does not place great demands on the soil. Only a long period of dryness is not well tolerated - in this case, watering is necessary. The location can be sunny to semi-shady. However, you should bear in mind that a sunny location leads to more intense leaf colours. The soil should not be prone to stagnant moisture - compaction should, therefore, be eliminated by loosening the soil and, if necessary, adding gravel or sand.
Planting and care
The optimal planting time is in the spring or autumn. If the soil is sandy or poor in nutrients, you should add some compost or good planting soil. A ninebark rarely needs to be fertilised in good garden soil. You may be able to incorporate some compost or horn shavings in the spring. If your plant is in a container, you should occasionally apply liquid fertiliser with the watering water. In August you should stop fertilising so that the shrub can prepare for winter - its shoots must be sufficiently lignified. As a rule, it does not need winter protection - but you should insulate a plant pot well.
Pruning
If you buy one of these plants, it is very tolerant to pruning. We recommend thinning out the shrubs regularly in the spring. This measure should be preferred over radical pruning. This is done by cutting out the older shoots - recognisable by the leafy bark - at ground level. This allows new shoots to form at the base. The cut maintains the beautiful shrub shape and the bushy form. Crosswise or crooked branches should also be removed for aesthetic reasons. Physocarpus opulifolius grows up to 3.5 metres high and wide on average, but the plant can be kept smaller by pruning.
Tag cloud