Robinia
When you buy a Robinia, you get an undemanding shrub or tree with a beautiful bloom that features drooping racemes of cream white flowers.
More information about Robinia
...
More useful information about Robinia
...The false acacia or black locust, as this plant is also called, offers an impressive sight in the garden. It forms a picturesque crown and produces flowers, some of which are extremely decorative and also sweet-smelling, which are replaced by pea-like pods in autumn. The sun shines through the delicate, pinnate leaves on the overhanging branches also enchant the observer.

These plants are extremely tolerant of heat and drought; they often show considerable growth speed and can also cope with poor soil. Their artistic, grape-like inflorescences in white or purple-pink are an excellent source of food for bees - on closer inspection, the so-called acacia honey is mainly due to the particularly rich nectar offered. Representatives with a corkscrew-like growth also show a great winter aspect, but flower somewhat less abundantly.

Discover the variety of Robinia at Lubera! In our assortment, we have put together attractive varieties that will enrich every garden.
Fragrant flowers and a beautiful winter silhouette
In the Lubera shop, you will find Robinia in different shapes and growth heights. Here are a few examples of varieties from our shop:
The variety 'Casque Rouge' unfolds as a large shrub or small tree and fascinates with an abundance of conspicuous purple to purple-red flower clusters.
R. hispida 'Macrophylla' shows impressively large inflorescences in carmine pink and remains relatively small at a height of about 2 metres. Its bark is densely covered with interesting, red bristles.
The thorny branches of the corkscrew R. pesudoacacia 'Tortuosa', which can grow to a medium-sized tree, grow in remarkable curves. As it ages, its beautiful, umbrella-like crown appears and the branches hang picturesquely from the tree.
Interesting facts 
The genus Robinia consists of well-known flowering plants within the legume family (Fabaceae).
Incidentally, they are not related t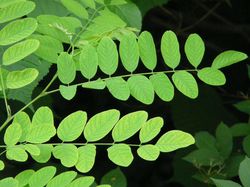 o the acacia - there is only a similarity in terms of the pinnate leaves and thorns.
In the centre of its original area of distribution, the Appalachian Mountains in North America, the black locust (R. pseudoacacia) is a pioneer tree species - it is now also very often found growing wild in Europe. The bristly R. hispida is also native to the United States. Many form thorns that grow in the leaf axils. At first, the shrub usually grows with a short stem that branches out over the years. Meanwhile, there are some grafted varieties available.
They begin to sprout their leaves relatively late in the spring, and flowering usually takes place from May to June.
The long seed pods are typical. In early autumn the seeds are ripe and the pods open. The seeds remain germinable for up to 30 years!
Due to its ability to bind nitrogen with the help of root-inhabiting Rhizobium species (bacteria), the tree supplies itself with the important nutrients
Location
You should give this plant a sunny location in the garden, but a partially shaded  site is also tolerated. It is not choosy about the soil conditions. It thrives in sandy or loamy soils. Loose, well-aerated soils, which may also be poor in nutrients, are preferred. Higher pH-values are favoured, but it is also tolerant in this respect. In general, the woody plant should be rather dry and unfertilised. Because if it grows too fast due to good nutrient supply, the tough wood becomes brittle. Furthermore, it should be planted in a sheltered place, as its wood unfortunately also becomes somewhat brittle with increasing age.
This is important to know: Robinia need a relatively large area, especially the 'Tortuosa' variety. Removing an established plant can be problematic. Even a felled tree leaves active root runners behind, so that the rootstock may have to be removed as well. Never damage the root system, as this promotes the development of runners.
Planting and care
The planting hole should be about twice the size of the root ball. Water it regularly in the period after planting. Because of its ability to fix nitrogen from the air, the Robinia is self-fertilising to a certain extent over time. Since it is also drought tolerant, a well-established plant requires hardly any care.
Pruning
These plants are tolerant to pruning and can be radically shortened if necessary. However, this also often stimulates the formation of runners - in this respect, the space required for planting should be calculated generously so that little pruning is required later. Prune all varieties, except Robinia hispida, preferably in tje spring.
For R. hispida 'Macrophylla' you should not use pruning shears until the summer, because in  the spring the sap rises in the shrub - the shrub would 'bleed' when pruned.
Toxicity
Especially the bark is unfortunately poisonous, a little less the seeds and leaves - the flowers are non-toxic. Horses like to nibble the bark, which is a danger. After eating it, humans may experience stomach ache and nausea.
Nevertheless, the plant is also used as a medicinal plant and even for culinary purposes. The flowers can be used to make tea, for example, or they can be baked in a pancake batter.
Not recommended for imitation: there are said to have been Indian tribes in North America who used the poisonous raw root bark as an emetic.
Tag cloud