Climbing hydrangeas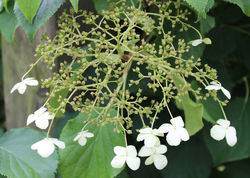 Our wide range of hydrangeas also includes climbing hydrangeas (Hydrangea petiolaris) and hydrangea vines (Schizophragma hydrangeoides).
More information about climbing hydrangeas
Climbing hydrangeas, in a broader sense, are representatives of both genera, therefore we will summarise them here for you.
As forest plants – originally from Japan and Korea – these plants can climb very high objects with their adhesive roots; in our gardens they are therefore ideally suited for walls, pergolas and fences. Shady locations with cool and humid conditions are ideal for these hydrangeas. In early summer, they form sweet-smelling, nectar-rich inflorescences, which are framed by white pseudo-flowering plants. Its flowers magically attract butterflies, bumblebees and other pollinators.
Hydrangea petiolaris species differ slightly from Schizophragma species in the flower design (four, white specimen leaves with climbing hydrangeas, one large specimen leaf with the hydrangea vine) and in their growth behaviour: If you buy and plant a climbing hydrangea, it will form sprawling branches, whereas the hydrangea vine (e.g. Japanese Hydrangea Vine) grows quite flat along a wall. In terms of beauty, however, hydrangea vines and climbing hydrangeas are clearly on a par.
From the Lubera garden shop
These decorative climbing shrubs, with their dark green, shiny leaves, are hardy and easy to care for. It is important to know that these climbers only flower after about five years of standing time, but then they flower all the more luxuriantly.
Suitable location
If you buy one of these climbing plants, you should have a cool and humid location, in the shade or semi-shade. You need a permeable (loose) and humus-rich soil. These plants do not like calcareous soil, so you may need to improve the soil.
Planting
It is best to plant in March to mid-May. If necessary, add some rhododendron soil to the planting hole in order to make the soil sufficiently acidic. The planting hole should be about twice as large as the root ball. Mulching around the planting hole is advantageous because the soil remains moist longer.
Climbing aids for hydrangeas
At first, the climbing hydrangea grows rather slowly. Similar to ivy, it finds a foothold with its shoots on walls - but these must not be too smooth. The young plant can benefit from a climbing aid, as this helps to guide its shoots upwards. The branches can also be attached to fences and pergolas with wires. Without a climbing aid, the hydrangea will grow into a broad, somewhat spherical shrub.
Care
These hydrangeas need quite a lot of water and should be kept evenly moist. In the spring, you can spread leaf compost. Rhododendron fertiliser can also be applied if necessary.
Pruning
These hydrangeas do not necessarily have to be pruned, but of course, you can intervene if the plant takes up too much space. In the case of older plants, you can also cut into the perennial wood. After planting, you can shorten the shoots of the young plant a little to encourage branching. It is best to carry out your pruning measures in February or March.
Tag cloud