Panicled hydrangeas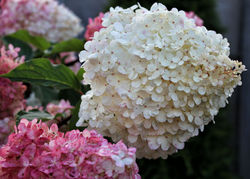 If you are a hydrangea lover you should definitely discover the different varieties of panicled hydrangeas (Hydrangea paniculata)! With their large, well-formed blossoms, they have a strong presence in the garden.
More information about Hydrangea paniculata
From the end of July, the many small individual flowers of an inflorescence open and, depending on the variety, show a wonderful, iridescent play of colours that can be admired until autumn.
If you buy Hydrangea paniculata, you are guaranteed to get an easy-care hydrangea, as it is less choosy than other representatives of its genus with regard to the location. Annual pruning is also extremely uncomplicated or can even be omitted altogether. A further advantage is that Hydrangea paniculata - as the botanical name suggests - sprouts relatively late so that any frost at the end of winter does not cause much damage. In addition, newer varieties, such as 'Limelight', have particularly rain-resistant flowers.
Buying a panicle hydrangea - perfect flowering
In socialisation, Hydrangea paniculata plants form attractive hedges and look fantastic in combination with hydrangeas of different colours. But they also make a wonderful eye-catcher when used alone in the garden or in a container on the terrace. The inflorescences of some varieties are also very popular with bees and butterflies and they exude a wonderful scent. Have a look at our Lubera range! We have put together enchanting varieties for you, which will prolong the summer with their distinctive flowers. Below are a few recommendations from our assortment.
If you are looking for a true insect magnet, you should choose one of these hydrangeas with many fertile flowers:
The 'Kyushu' variety is a selection of the Japanese wild plant and attracts a variety of butterflies, bees and bumblebees
The impressive, up to 25 centimetre long flowers of the 'Unique' variety appear in a delicate cream shade and wither in the most beautiful pink
'Limelight' grows very compactly, has an even, beautifully branched structure and blooms in an intense, lime green colour
Interesting facts about Hydrangea paniculata
This type of hydrangea, like most representatives of the hydrangea genus, originates from East Asia. Its wild form grows in semi-shady locations in forests on fresh to moist soils. They flower later than other hydrangea species and show their large inflorescences until late autumn. In the garden, the flowering shrubs usually grow to 2 to 4 metres high and up to 3 metres wide - but a regular cut will keep them more compact. Their growth is shrub-like with numerous, fork-like branches. When in full bloom, it can overhang. Its impressive inflorescences can grow to 30 centimetres in size and consist of many individual flowers.
When you buy a panicled hydrangea, you should also know that there are variety-specific differences in flowering. The (fertile) flowers, which attract pollinators from the insect world, are rather inconspicuous, whereas the sterile, showy flowers provide the high ornamental value. As mentioned above, the 'Kyushu' variety is a real insect magnet, as it has both sterile and fertile flower parts.
The right location
A semi-shaded location is ideal for Hydrangea paniculata, but it also thrives in the sun, which is special for hydrangeas. However, it is important that a sunny spot has sufficient water or soil moisture. A panicled hydrangea does not necessarily need acidic soil - a well-drained, humus-rich, fresh to moist soil should, however, be available, whereby the shrub can also tolerate temporary drought. However, if the soil is very calcareous, some bog soil should be added. A place sheltered from the wind is advantageous, as flowering shoots will not be damaged. At the location, Hydrangea paniculata would like to extend its roots into the depths of the soil - if it is planted under a tree, it should have a similar root system so that there is no competition.
Planting and maintaining
If you buy a panicled hydrangea, you can plant it all year round - but the best time to plant it is in the spring, as it is guaranteed to grow well until winter. You can use compost to prepare the soil. In the beginning, you should make sure that the water supply is regular. When planting hedges, you should choose a planting distance of one metre. On poorer sites, the shrubs should be supplied with compost or horn shavings every spring.
Pruning yes or no?
These hydrangeas bloom on new wood that is formed in the spring. You can't really go wrong with pruning, which is not necessarily true for other hydrangeas. These hydrangeas can be cut back - but it is not a must. If you want to have a larger shrub quickly, you should not cut it at all. Weaker shoots or dead shoots should always be removed, however. If you decide to cut the hydrangea in March - shortly before budding - to 20 to 30 centimetres, this has the following advantages:
The deadwood is removed
Particularly large flower panicles are formed
Your panicled hydrangea will keep a compact growth and will also not get bare from below
If you shorten the shoots by only about half of their total height, the panicled hydrangea will grow higher and wider over the years, but will also show slight tendencies to get bare in the long term.
Tip - Support
The large panicle flowers look great and have an excellent long-distance effect, but sometimes they get a little heavy on the plant. Plant support can help in this case. In the shops you can get special perennial holders that you can stick into the ground around the shrub, bamboo sticks (especially U-shaped) also do a good job.
Tag cloud